Episodes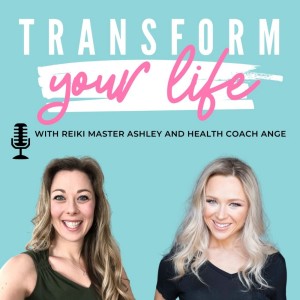 Thursday Apr 20, 2023
Thursday Apr 20, 2023
Are you ready to emerge from hibernation and get that sunshine on your face and to your soul to optimize your life? Ange shares the Standing Deep Breathing - Pranayama technique that will have you pulling in life force energy, first thing in the morning to start your day feeling alive, alert and energized. 
In this episode we catch up on how we are living our best life AND where we have been SLACKING (and the cheeky ways the Universe shows up to get us back on track)! 
Ashley learns to bake sourdough bread, get back into working out and shares her new homesteading skills she learned from @the_acres_in_between and how you can be making your own kombucha, gummies and daily bread!! 
Ange tells all about coming together as a blended family to make holidays special with family traditions, how to potty train intuitively with your child, and the importance of our children's "village". 
------
Want to connect and go deeper? Join us for our first breath work session being held at the Renewal Retreat in Belgrave ON, Thursday May 11th from 7pm-9pm! 
Join us for a 7 day FREE trial in the Empowered Collective.
Book a Human Design Reading with Ange. 
Book a Reiki Treatment with Ashley www.soulpurposereiki.com